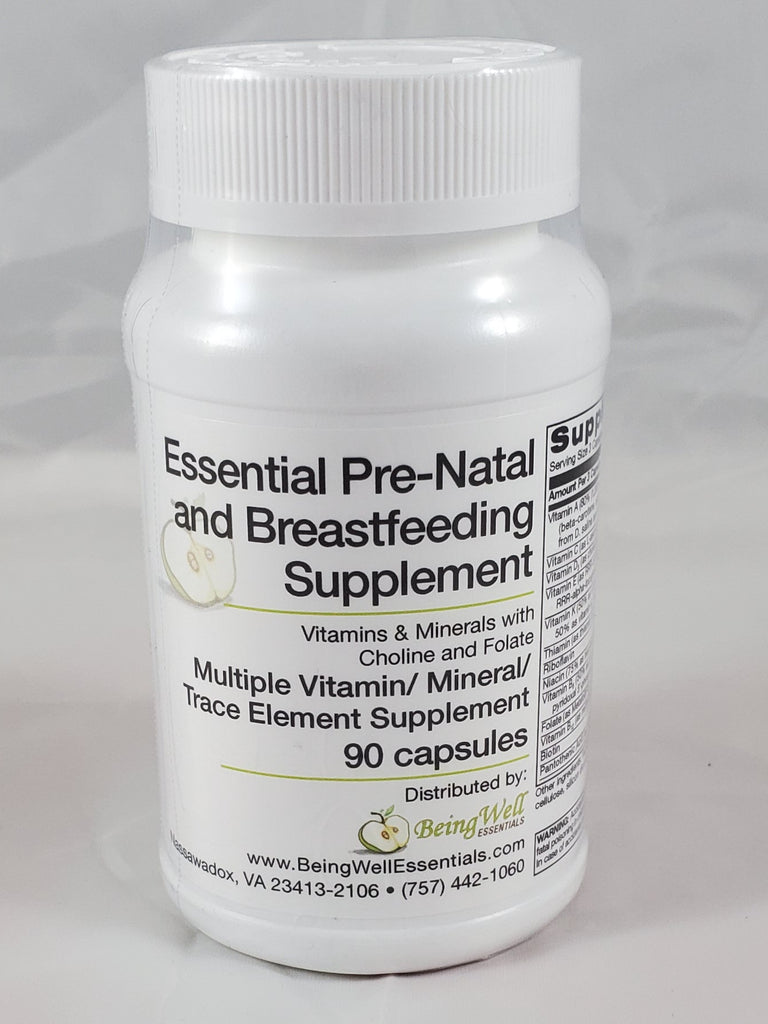 Essential Pre-natal and Breastfeeding Supplement Vitamins & Minerals with Choline and Folate Trace Element Supplement 90 Capsules
---
Breast feeding vitamin

Nursing mother vitamin

Essential trace minerals for healthy brain development of fetus and new born

Expectant mother vitamin and mineral supplement

Pre-natal vitamin
This product is a three-per-day multiple vitamin and mineral supplement intended for daily use during pregnancy. It is formulated to address several key nutritional needs of pregnant women often overlooked in other formulas. The amounts as well as forms of each nutrient in this product have been selected to help ensure a high degree of nutrient bioavailability, excellent tolerance, and documented safety. This product can help meet the daily nutrient needs of pregnant women by providing:
• A balanced mix of over 20 vitamins, minerals, trace elements, and other important nutrients.
• 2,000 IU of vitamin D3 to meet increased needs for fetal growth, bone development, and other essential functions.
• Active forms of folate (as Metafolin®** L-5-MTHF), vitamin B12, and B6 to support optimum folate metabolism and methylation.
• A bioavailable form of choline, provided as phosphatidylcholine, to support optimal fetal brain development and maternal liver function.
• Extra iron to support transport of oxygen to tissues, immune function, energy production, and cognitive development.
• The full family of naturally-occurring vitamin A-related carotene nutrients and vitamin E fractions for more complete nutritional benefit.
• Mineral compounds with documented bioavailability and exceptional tolerance.
Daily supplementation of essential micronutrients as found in this product can help pregnant women obtain proper nutrition as part of a well-balanced nutritional program.
This product is free of the following common allergens: milk/casein, eggs, fish, shellfish, tree nuts, peanuts, wheat/gluten, corn, yeast, and soybeans. Contains no artificial colors, flavors, or preservatives.
Suggested Use: 3 capsules daily with food.
Supplement FactsServing Size 3 Capsules 
Servings Per Container 30
---
Share this Product
---
More from this collection