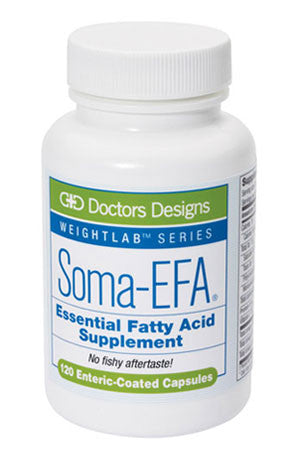 Doctor's Designs - SOMA-EFA - 120 TABS
---
Participants in a Very Low Calorie (VLCD) and some Low Calorie (LCD) diet programs will notice telltale signs of essential fatty acid (EFA) insufficiency, such as dry, flaky skin. Additionally, the release of stored pro-inflammatory fats during weight loss makes it essential to maintain a good balance of EFAs, particularly those that support anti-inflammatory metabolism. EFA support is a must for every weight loss patient. 
*These statements have not been evaluated by the FDA. These products are not intended to diagnose, treat, cure or prevent any disease.
Our EFAs are specifically designed for use in weight loss and contain a carefully calibrated balance of ω-6 and ω-3 essential fatty acids. These types of EFAs have been selected to have the greatest potency with the least additional calories.
Ideal WHO-approved fatty acid balance with only 5 calories per capsule
Enteric-coated, so no fishy aftertaste
Verified contaminant-free
---
Share this Product
---
More from this collection